The popular name Mount Everest was delivered by the Royal Geographical Society with the suggestion of Andrew Waugh after the name of his forerunner in the post, Sir George Everest. Everest Region is one of the significant attractions for the trekkers on the planet who love to encounter the rush and challenge the mountain ranges. It is the primary home for any trekker in the world. There is also a phrase relating to this, which implies as 'No trekking is complete without experiencing the Everest region. It is because of the adorability and calmness of mountains and the whole environment.
Everest Treks - Know More about Everest Region Treks
Everest Region Trekking is a must-do creative activity in Nepal. Trekking to the Everest region lets you encounter the highest peak of the world, Mount Everest. Also, the supporting mountains' panorama is much more mesmerizing. Everest is a paradise for adventure and nature lovers. Mount Everest is the most elevated mountain peak on the Earth above sea level with an ebb and flows official height of 8848 meters (29,029 feet).
It is known as Sagarmatha in Nepali and Chomolungma in the Tibetan language. Sagarmatha is combined with two words, 'Sagar' and 'Matha', which means 'sky' and 'forehead'. Uniting both, the word Sagarmatha refers to as 'Forehead of the Sky. It is likewise a worldwide outskirt in China and Nepal.
Top 10 Best Everest Treks (Tour) in Nepal - Kathmandu
Everest Base Camp Trek
Everest Base Camp Trek 11 Days
Everest Base Camp Trek 14 Days
Everest Base Camp Helicopter Tour
Everest View Trek
Gokyo Valley Trek
Everest Three Passes Trek
Gokyo Valley Trek with EBC
Jiri to Everest Base Camp Trekking
Everest Circuit Trekking
Everest Region Trek/Tours - Trek Facts

Difficulty Level:

Level 1 - Medium
Trek/Tour Duration:
1 day to 20 days
Trek Environment
Trekking trails are natural with rivers and a number of suspense bridges. Little busy but well-serviced trekking trail
Max Altitude:
5364m at EBC and 5643m at the Kala Patthar
Accommodation:
Basic Lodges / Mid-level Tea Houses / Luxury Lodges up to Lobuche with western toilets & Simple Tea Houses at Gorekshep
Best Weather:
Mar-May, Oct-Nov ( Other dry seasons are also recommended for Everest Treks
Transport To/From Trek
Plane/ Helicopter Flight to Lukla Airport (2860m) and Jeep up to Sallery or Phaplu Airport
Everest Entry Document :

Trekkers' Information Management System (TIMS) Card
Sagarmatha National Park Permit
No special permits are required for the EBC trek
Local Government fees Rs. 2000 per person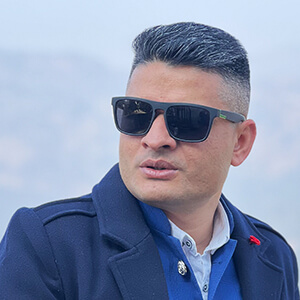 Binod Sapkota
A tourist counselor