Everest Base Camp Trek
Everest base camp trek is the ultimate adventure for those who want to experience the thrill of trekking through the Himalayas in Nepal. It is a well-known truth that Nepal possesses a lifetime's worth of natural and cultural attractions that provide the best in adventure and cultural travel. Nepal, which is proud to be the home of the tallest mountains in the world, encourages tourists to experience its perfect Himalayan beauty and alluring natural wonders. Climbers from all over the world travel to the Solukhumbu District in Nepal to conquer Mount Everest (8848.86m), for the unmatched experience of being at the top of the world.
Regular or Classic Everest base camp trek offers the best trekking experience to base of Mount Everest. During the trek it gives you overall panorama of Everest Region along withsurrounding mountain peaks and ranges. It takes 14 days to complete the trip from Kathmandu to Kathmandu. In which you have to trek 9 day up hill from Lukla and 3 days down hill to Lukla. Similar to this route enables you to see Sagarmatha National Park, a world heritage site, and to know the unique culture and customs of world-famous hikers Sherpa's, Tibetan people, and so on.
The Everest base camp trek is a dream come true, for those travelers who desire to see Mount Everest up close. In the Himalayas, the Everest base camp trek is undoubtedly the most well-known and famous trek. we take you from Kathmandu to Lukla, which is at an altitude of 2,800 m above sea level. This is where your trek begins. Check out our Itinerary section for detailed infromation about Day to Day activities during the trek.
Everest base camp trek 14 days is one of the finest long-distance treks. It enables travelers to explore high altitudes, uncharted territory, ridges, steep slopes, forest areas and settlements, terraces and farmlands, etc. The 14-day standard and advanced Everest base camp trekking packages are filled with breathtaking natural scenery and the Sherpa people of the region's warm and welcoming hospitality.
Everest Base Camp Trek Difficulty
"How difficult is the Everest Base Camp Trek?" and "What level of fitness is required for the Everest Base Camp Trek?" are two of the most often asked questions concerning the trek to Everest base camp. The Everest Base Camp hike is not as challenging as the name might imply. Anyone with ordinary fitness levels can accomplish the moderately difficult hike.
Of course, trekking to Everest is not going to be like going for a leisurely stroll through the park; it requires 14 days of exhausting walking through dense, lush forest, up steep country roads, and up difficult climbs, but it is not a technical climb, so if you are physically and mentally fit, you are likely to be up to the challenge. It is a demanding high altitude trek that lasts at least 14 days.
Everest Base Camp Trek Distance from Kathmandu
Although the distance appears to be rather long—130 Km (80 Miles) round trip—if you take into consideration that, on a typically guided EBC trek, you will only be hiking for 11 days out of 14 days, you'll realize that you are actually walking around 12 km per day. The number doesn't seem all that high when you consider that the typical Hiking length is between 2 to 3 km per hour.
However, the daily distance of 12 kilometers won't be on a level, paved path. Instead, you will be walking over quite rocky and maybe icy terrain (depending on the time of year and altitude), which is likely to slow you down. It's easy to realize that the walk gets more difficult when you examine the landscape and the fact that you're usually heading upward and gaining elevation.
Brief History of Everest Base Camp Trek
There are two camps: the North Base Camp in Tibet and the South Base Camp in Nepal. South Base Camp is located in Nepal at anelevation of 5,364 meters (17,598 feet) (28°0′26′′N 86°51′34′′E), whereas North Base Camp is located in Tibet, China at an elevation of 5,150 meters. The endpoint of this legendary trek is the Nepalese camp in the Khumbu region, which is generally referred to as Everest Base Camp.
It is located at the end of the lengthy valley that divides the Sherpa settlement of Dingboche, carving through the Himalayas. The dangerous Khumbu Icefall, which begins just outside the camp and leads to the Western Cwm, also known as the Valley of Silence, and the peaks of Lhotse and Nuptse, is the first obstacle for anybody intending to ascend to the summit of Everest.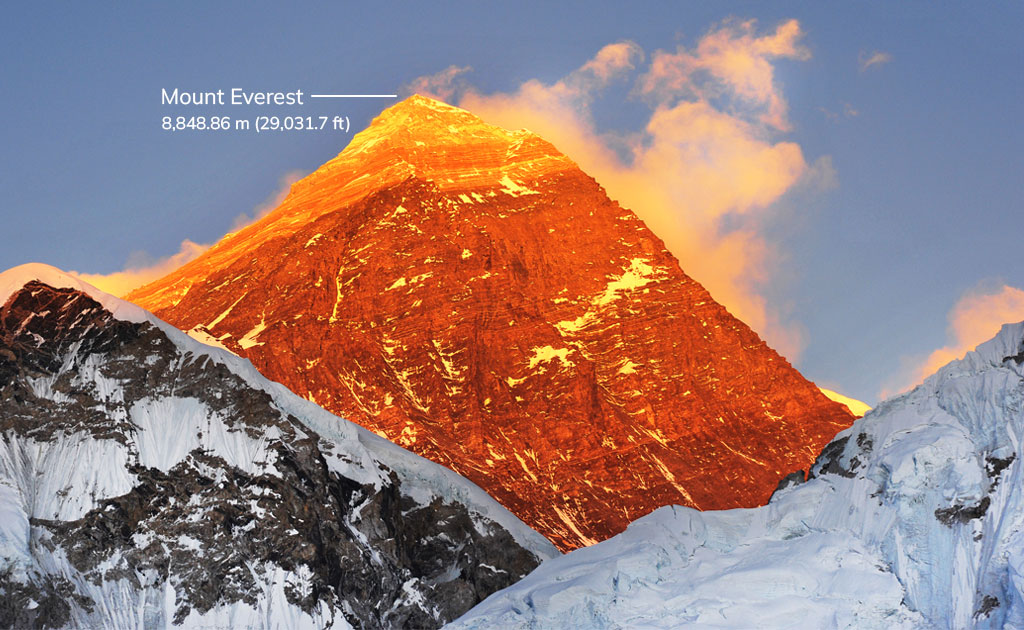 In order to map out the north face, a team led by George Mallory (who some believe to have been the first to reach the summit) arrived in the beginning of the 1920s, which is when trekking on Mount Everest began. On their treks, Mallory and his team, however, never established a permanent base camp, and the northern route was all but closed when China conquered Tibet in 1949.
Then Tenzing Norgay and Edmund Hillary's conquering mission arrived. It happened in Nepal on the southern slopes. Hillary and Norgay came to the realisation that having a facility to store supplies at the mountain's base was more advantageous than having to climb the Khumbu Valley's entire length each time with essential equipment. And finally, Mount Everest Base Camp Trek was established.
The Everest Base Camp Trek on the south side, at a height of 5,364 m (17,598 ft), is one of the most popular trekking routes in the Himalayas, with over 40,000 people making the walk from Lukla Airport (2,846 m (9,337 ft) each year. Trekkers typically fly from Kathmandu to Lukla before commencing the trip to the base camp to save time and energy. Trekking to Lukla, on the other hand, is doable. Because there are no roads between Kathmandu and Lukla, the only way to carry large and heavy products is by plane.
Why book the Everest Base Camp Trek with Nepal Trek Adventure?
Simple and safe online booking system.
Cancellation of service in accordance with corporate policy.
Trip postponement services.
Flexible itineraries based on the needs and preferences of the client.
Certified NTA tour operators with fluent English.
Packages that include all transportation (in a private or public vehicle, as requested by the client).
Best time for Everest base camp trek
One of the most crucial things to take into account when trekking to Base Camp is the weather. The Base Camp is a year-round destination for tourists, experienced climbers, and locals however there are seasonal ups and downs. Spring or autumn are the best seasons for trekking. The sky is typically clear during these times from dawn to dusk. The most beautiful vistas are provided by the clean, blue skies.
Check out our useful information section to know about Everest Base Camp Trek. Or if you have more questions about the EBC Trek. Feel Free to TALK TO BINOD our Travel Expert.

For Booking Check Availability or Departure Dates Section.
Book now and get free t-shirts, caps, and stickers.