Top 5 Dangerous Airports in Nepal
The most dangerous airports in Nepal paves the way of showing Nepal as Hilly and mountainous country. All these airports are situated in dangerous places like in the hills, the lap of mountains, and also in the hard to reach kinds of places. These airports are at extreme heights which can be hard to believe as well. Nepal is the landlocked country with hills and mountains surrounding it. Because of which it has no connections with seas and oceans. It makes the only way to reach Nepal for other continents' people, the Airway. Arriving at different countries and moving to the country through roadway can also be done, but is not much recommended.
Nepal has only one international airport, Tribhuvan International Airport. This airport carries full facilities for staying, carriage of goods, and other appreciable services. But there are some airports which are in such rural places where even carrying foods and housing is difficult. In such airports, there is a high chance of life risk because of weather conditions and vast landscapes. Because of which, only most experienced and high caliber pilots are directed for the flights in these regions.
Here are the 5 most dangerous, extreme, scariest, and hairiest airports in Nepal. These airports come under this list as they are located on high altitudes, have short runways, and the landings and fly-over are much more challenging.
1.Lukla Airport
Lukla Airport, also known as Tenzin Hillary Airport is the airport located in Lukla in Khumbu region of Solukhumbu district in Eastern Nepal. It is rated the most dangerous airport in the world for over 20 years. Despite knowing it as the Dangerous Airport, it is very famous too, as it is the gateway to Mount Everest, the highest mountain peak in the world; i.e. Mount Everest Expedition and climbing to its Basecamp and other areas begin from flight to this airport. This airport is in the elevation of 2,845m (9,334ft) with the runway 527m (1,729ft) x 30m (98ft) including 11.7% gradient. There remain daily flights from Kathmandu to Lukla and vice-versa, but in the windy, cloudy days, the airport remains closed or flights are postponed/delayed. The airport remains patrolled by Nepal Armed Police and Civil Police in order to make the place secure and dependable, but only in case to avoid non-human behaviors.
This airport was built by Edmund Hillary in 1964 in farmlands buying their lands in 2650 US dollar. Initially, the runway was not paved until 2001. As it was the attempts of Sir Hillary to facilitate Mount Everest visitors, the airport was named under their names (Sir Edmund Hillary and Tenzin Norgay Sherpa) as Tenzin Hillary Airport, who were the first Mount Everest successful climbers.
2. Simikot Airport(Humla Airport)
Simikot airport is the airport located at Simikot, headquarter of Humla district in Karnali region of Nepal. It is the main gateway for the tourists, both indoor and outdoor, for visiting the mountains like Mount Kailash and lake-like Manasarovar from Nepal side. They fly to Simikot and pave their way to these places lying in China's Tibet Autonomous Region via International border at Hilsa. It lies at an elevation of 2,818m (9,246ft) above sea level with the coordinates of 29o58'16'N 081o49'08'E. The landscape is vast and low services (especially transportation, food, electricity) are available in this place because of which airport facilitates as a whole journey in the whole district of Humla.
The airport runway is 549m (1,801ft) long. The runway along with the parking areas and terminals has been recently improvising from its past conditions. The condition of the place is improving with more and more services and essential infrastructures.
3. Talcha Airport(Mugu Airport)
Talcha airport is also one of the most dangerous airports in Nepal located in Rara National Park of Mugu district in Nepal. It lies on the land filled with snow (most of the time) at an altitude of 2,735m with latitude 29o43'49N and longitude 82o30'55E. The main aspect that makes this heavenly place dangerous is the land filled with snow in all sides as the plane can slip away, or engine can stop working or many other risky situations can occur during or before the flight.
4.Mustang Airport(Jomsom Airport)
Mustang Airport, also known as Jomsom airport is a STOL airport residing in the Mustang district on the bank of Kali Gandaki River. It is the gateway to Mustang district which includes Jomsom, Kagbeni, Tangbe, Lo Manthang, and all the way to Muktinath temple (Popular pilgrimage for Nepalese and Indians). It resides at an elevation of 2,736m (8.976ft) above sea level with its runway 06/24 which measures 739m (2,424ft) x 20m (66ft). Airport also provides Aerodrome Flight Information Service (AFIS) on VHF frequency. The threshold (THR), Runway Designation, Touch Down Zone (TDZ), and Central Lines are also marked. Re-fueling facility is not available.
There are daily flights to this airport in clear weather. But during changing visibility, cloud cover and high winds, flights may get delayed or airport may remain closed. While flying through this region, beautiful view of the gorge like Kali Gandaki Gorge, mountain peaks like Dhaulagiri (8,167m or 26,795ft) and Tukuche (6,920m or 22,703ft) on the west and Nilgiri Central (6,940m or 22,769ft) and Annapurna (8,091m or 26,545ft) on the east can be observed. The whole area remains southerly windy after a mid-morning. The airport is available throughout the year but visibility does not remain adequate for VFR (Visual Flight Rules) about 15% of the time. So the airport flights are scheduled in the early morning when wind speed is low and visibility is good.
5.Dolpa Airport
Dolpa Airport, also known as Juphal Airport is another hilarious airport in Nepal residing at an altitude of 2,499m (8,200ft) in the place named Juphal. It lies in Dolpa district in Province No. 6 in Nepal. It is the only airport in this district with a runway designated 15/33 measuring 663 by 30 meters (2,175ft x 98ft). At first, the airport runway was graveled but in 2017 it was turned into blacktopped with the smooth surface.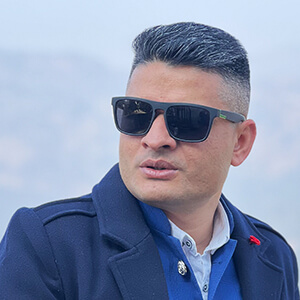 Binod Sapkota
A tourist counselor